Retail merupakan sektor bisnis yang sangat luas. Tetapi setiap pasar retail pada akhirnya memiliki tujuan yang sama dan melihat hasil dari channel digital semakin menjadi fokus utama mereka. Pembelian produk online terus tumbuh yang, dengan perkiraan konsumen menghabiskan lebih dari £115 miliar untuk eCommerce pada tahun 2020!
Jadi ada peluang besar untuk retail online karena SEO adalah penunjang utama traffic organic online sehingga sangat penting bagi eCommerce untuk memiliki performa baik di Google; 48% dari semua pembeli memulai pencarian produk di Google.
Apakah mereka juga memiliki toko fisik atau tidak, semua retail online yang mendominasi internet banyak berinvestasi dalam SEO strategy dan Anda seharusnya begitu juga! SEO bisa menjadi perbedaan antara mencapai target pendapatan atau kehilangan potensi ribuan dolar.
Faktanya, channel digital menghasilkan sebanyak 22% dari total penjualan retail di Inggris saja..
Siapa retail online terbesar?
Setiap kuartal kami merilis Pi's Market Leaders yang menampilkan retail online terbesar di kategori Fashion, Peralatan Rumah Tangga, Kelistrikan and Kecantikan. Lihat siapa yang memenangkan tempat teratas di kuartal terakhir.
Bagaimana Anda bisa bersaing?
Bersaing secara online mungkin tampak seperti pertarungan yang sulit. Pasar sudah sangat jenuh, belum lagi raksasa Amazon (dan Google sendiri!) mengambil sebagian besar share of voice di banyak (jika tidak semua) sektor retail.
Mengoptimalkan web tidak harus menjadi perjuangan yang sulit. Mengetahui konten SEO apa yang akan diproduksi dan cara terbaik untuk memprioritaskan halaman Anda yang paling berharga adalah titik awal yang bagus.
Penting juga untuk memiliki data tentang performa Anda sendiri dan kinerja pesaing Anda (competitor analysis) – mengidentifikasi di mana peluangnya dan kemudian memfokuskan usaha Anda. Software SEO dari Pi menunjukkan dengan tepat siapa pesaing Anda. Tidak perlu menebak-nebak! Dan aplikasi ini unlimited sehingga Anda dapat mengidentifikasi persaingan di ruang mana pun yang diinginkan.
Meskipun tampaknya ini semua tentang online (dan jika dilihat dari segi konversi, memang demikian), aktivitas offline juga sangat penting untuk brand awareness.
Ikea menawarkan beberapa contoh bagus dari campaign brand awareness offline yang cerdas untuk melengkapi kekuatan SEO mereka. Mari kita lihat lebih dekat kinerja mereka secara online dan offline untuk memahami kesuksesan mereka.
Toko peralatan rumah tangga: Ikea
Di Homeware Market Leaderboards kami, Ikea secara konsisten muncul dalam kuartal demi kuartal. Mereka mungkin tidak menempati posisi teratas, tetapi mereka bekerja dengan baik di semua subkategori peralatan rumah tangga:
Ikea's share of voice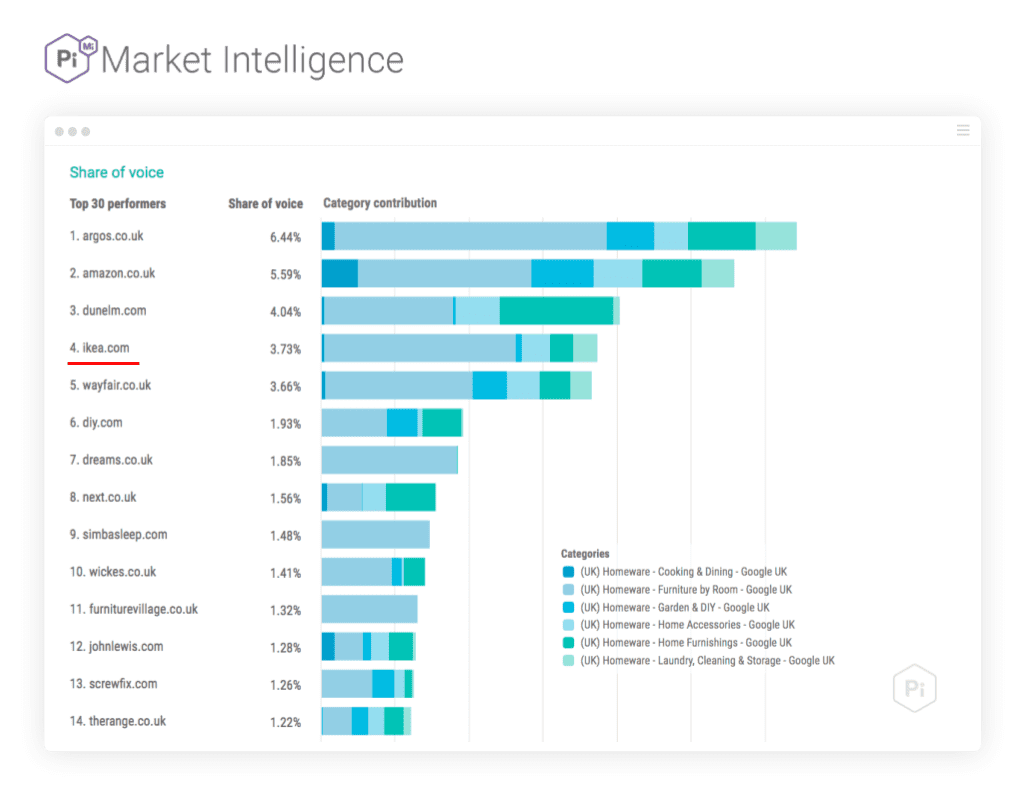 Ini bukanlah hal yang mudah untuk mendapatkan visibility di berbagai sektor seperti peralatan rumah tangga; banyak merek akan memfokuskan usaha SEO mereka hanya pada furnitur atau DIY, tetapi Ikea memiliki semuanya!
Tentu saja, mereka juga memiliki nama merek yang sangat kuat – siapa yang bisa melupakan bakso Swedia dan furnitur flatpack. Namun Ikea tidak hanya mengandalkan motif yang berlaku untuk ketahanan merek mereka, mereka juga terus berinovasi agar tetap relevan.
Periklanan
Natal 2019 mempertunjukkan iklan TV dinosaurus sedang nge-rap dari Ikea yang mengingatkan orang-orang tentang standar tinggi mainan plastik – tetapi juga kebutuhan untuk menghias rumah.
Iklan yang berisi nyanyian telah dilakukan sampai sekarang, tetapi dengan mengajak legenda musik grime dari London Timur, D Double E, Ikea membuat iklan yang membuat kiasan iklan umum itu kembali.
Kerja sama ini juga sangat cerdas karena memperkuat dedikasi mereka pada budaya pop.
Pop culture
Di tahun 2019 Ikea juga melakukan campaign di mana mereka mengkreasikan ruang keluarga ternama, seperti ruang tamu Friends, The Simpsons dan Stranger Things. Ini adalah impian dari PR dan tentunya sangat mudah untuk mendapatkan retweet.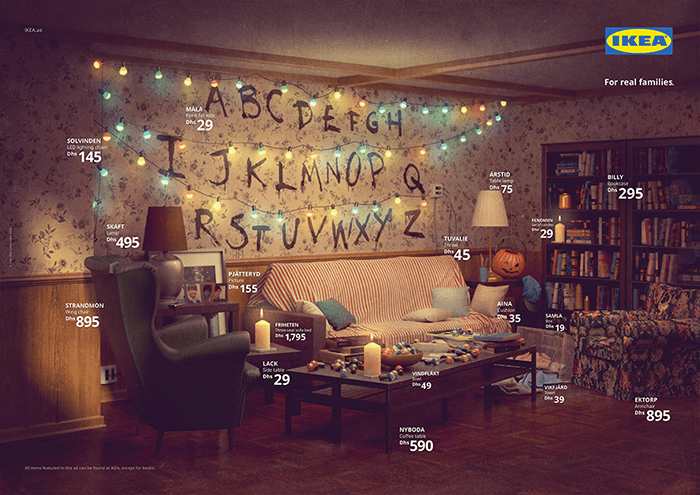 Investasi dalam teknologi
Selain dominasi digital mereka di dunia SEO, Ikea telah berinvestasi dalam virtual reality. Anda bahkan tidak perlu mengunjungi toko fisik dan mengukur – cukup gunakan headset VR Anda atau buka aplikasi dan mulai menempatkan furnitur!
Ini adalah inovasi yang sangat menarik, dan juga nyaman (jika Anda memiliki peralatan tentunya). Dengan turut memanfaatkan VR, Ikea telah menjaga relevansi merek mereka di era digital.
Omnichannel untuk retail online
Ikea adalah contoh sempurna untuk dengan cerdik menyebarkan marketing ke seluruh saluran. Mereka telah berinvestasi dalam marketing tradisional dengan iklan TV, memikirkan tentang strategi sosial dengan membuat konten yang layak viral, dan bahkan mengadopsi teknologi terbaru. Semua aktivitas ini bagus, tetapi juga didukung dengan strategi SEO yang sangat kuat – calon pelanggan potensial yang tidak mereka jangkau dengan campaign brand awareness, mereka akan pick up secara online melalui organic search.
Karena konsumen menjadi kurang loyal terhadap merek, memilih harga atau kemudahan terbaik, memiliki visibility untuk search terms yang relevan saat konsumen bebas memilih penawaran terbaik memberi Anda kesempatan terbaik untuk merebut dan mengkonversi..