Toffee Content Framework - Terapkan Untuk Website Bisnis Anda Sekarang!
HAVE RELATABLE WORDS
TO APPROACH EVERY KIND OF AUDIENCE
Flow pengerjaan dalam bagian content creation akan dilakukan dalam 3 tahap utama. Di mulai dari Content Creation, Quality Control, dan Approval.
Kami memiliki beberapa jasa berbeda. Namun proses pengerjaan kami hampir sama setiap saat.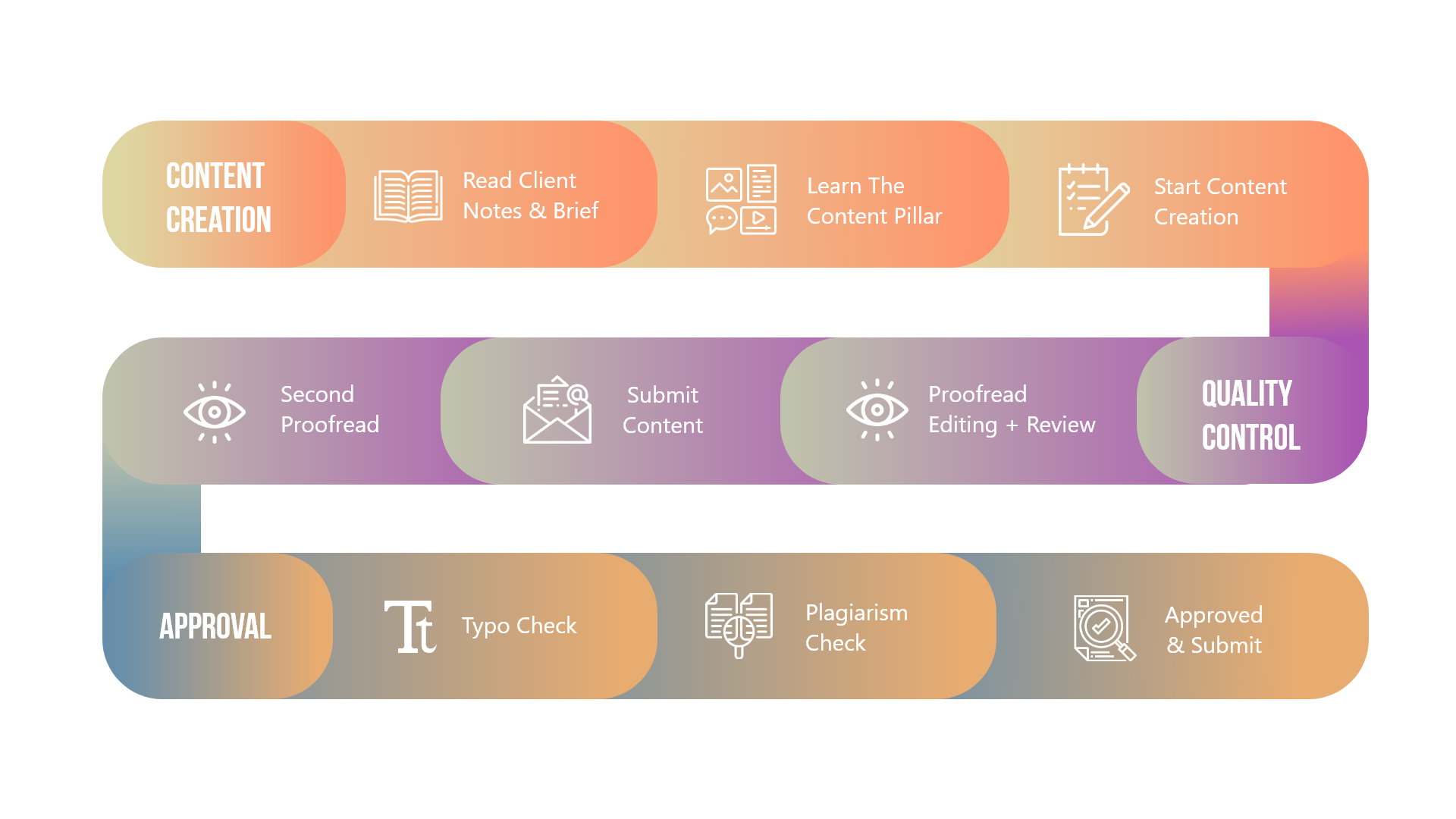 Stage 1
Content creation
Tim konten akan memulai pembuatan konten dalam 3 tahapan awal. Dimulai dengan membaca Brief dan Client Notes, riset dan mempelajari Content Pillar, sebelum akhirnya memulai tahapan Content Creation.
Read Client Notes And Brief.
Sebelum memulai tahapan pembuatan konten, tim kami akan mem-pelajari brief, client notes, dan juga keyword yang diberikan. Tahapan ini akan membantu untuk mendapatkan gambaran besar mengenai konten yang diinginkan oleh klien.
Learn The Content Pillar
Tahapan selanjutnya adalah memahami Content Pillar. Hal ini berguna dalam merancang isi konten agar sesuai dengan intensi pencarian calon pembaca/konsumen yang akan mencari informasi terkait bisnis Anda.
Start Content Creation
Setelah memahami brief beserta Content Pillar yang akan digunakan dalam membangun konten, tim kami akan melanjutkannya ke tahap pengerjaan. Pada tahapan ini, tim akan menulis konten berdasarkan hal di atas dengan tujuan membantu bisnis Anda.
Stage 2
Quality Control
Setelah konten selesai dikerjakan, tahapan selanjutnya yang akan dilakukan adalah memastikan kualitas nya untuk mendapatkan hasil yang terbaik. Tahapan ini juga dilakukan dalam 3 langkah. Di mulai dari Proofread+Editing+Review, Submit Content, dan Second Proofread dari tim senior
Proof Read +Editing +Review
Setelah konten selesai diproduksi, tim akan melakukan self checking dalam bentuk proofread guna memastikan tidak ada kesalahan dalam penulisan, jika ada maka akan lanjut ke proses editing. Setelah itu tim akan kembali melakukan review.
Submit content
Setelah melalui tahapan self checking, konten yang dikerjakan akan di submit ke tim senior untuk dilokukan second check. Hal ini tentu sangat diperlukan guna memastikan kualitas dari konten yang akan diberikan pada klien.
Second Proof Read
Pada tahapan ini, konten yang sudah ditulis akan melewati proofread sekali lagi untuk meminimalisir kesalahan yang terjadi. Tim senior akan kembali memeriksa tiap bagian konten dengan teliti.
Stage 3
Approval
Ini merupakan tahapan terakhir sebelum konten diberikan pada klien. Tahapan ini berfokus pada pengecekan terakhir agar hasil yang diberikan bisa maksimal. Konten akan kembali melewati beberapa langkah. Mulai dari Typo Check, Plagiarism Check, dan yang terakhir Approved & Submit.
Typo Check
Demi menghindari kesalahan pada penulisan, tim kami akan menggunakan tools untuk memastikan tidak ada typo pada konten. Selain menggunakan bantuan tools, pengecekan secara manual juga dilakukan untuk memastikan hasil yang terbaik.
Plagiarism Check
Plagiarisme adalah salah satu hal yang ingin kita hindari untuk bisa mendapatkan konten yang berkualitas. Melalui tools yang kami gunakan, pengecekan plagiarisme akan dilakukan untuk kembali memastikan kualitas dan keaslian dari konten yang ditulis. Jika terdapat hal yang tidak diinginkan, maka konten akan kembali melalui tahapan editing dan pengecekan kembali.
Approved & Submit
Setelah melalui pengecekan terakhir dan terbukti tidak ada plagiarisme yang terjadi, barulah konten akan di approve dan di submit kepada klien.
Mulai dengan Search Engine Optimization - Free Evaluation!
In this 30-min online consultation, you'll get :
Free review of your business website & social media platform, including actionable steps you can do to improve it
Marketing & strategy ideas regarding your business website and social media advertisements