Update NEWS !!! Google Update Algoritma
Google baru saja update Algoritma pada hari Rabu, tanggal 01 Agustus 2018. Informasi tentang Google update algoritma yang dilakukan ini telah dikonfirmasi oleh pihak Google melalui akun Twitter-nya.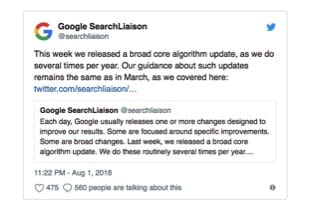 (Tweet dari akun Twitter milik Google)
Dari tweet tersebut, Google memberikan informasi bahwa Google telah melakukan update untuk Broad Core-nya. Sebelumnya, Broad Care ini telah dilakukan beberapa kali update dalam setahun belakang ini (terakhir update ialah bulan Maret 2018), lalu pada awal bulan Agustus 2018 dilakukan update kembali oleh pihak Google.
(Video Youtube : Google Algorithm Update 1 Agustus 2018)
Update mengenai algoritma ini juga dibahas oleh Danny Sullivan yang merupakan salah satu orang kepercayaan Google untuk menerima update tentang perubahan Algoritma di Google. Salah satu statement yang diinformasikan dari Danny Sullvian mengenai update algoritma ini yaitu :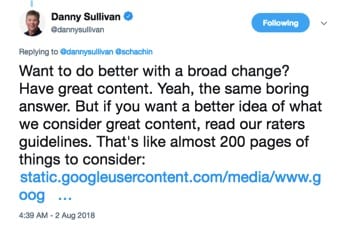 (Isi Tweet dari Danny Sullivan)
"Want to do better with a broad change? Have great content. Yeah, the same boring answer. But if you want a better idea of what we consider great content, read our raters guidelines. That's like almost 200 pages of things to consider: Search Quality Evaluator Guidelines"
Statement dari Danny menjelaskan bahwa dengan adanya Broad Change yang dilakukan oleh Google, yang dibutuhkan untuk para pemilik website ialah dengan membuat konten website sebaik mungkin. Selain itu, dia juga memberikan link informasi mengenai Raters Guidelines agar Anda bisa mengoptimasi website Anda dengan baik.
Diinformasikan juga, karena adanya Google update algoritma ini, maka akan memberikan dampak penurunan ataupun peningkatan untuk traffic yang dimiliki oleh websitenya. Tidak ada masalah untuk halaman yang ada di website, perubahan ini merupakan perubahan yang berasal dari sistem Google-nya untuk membantu halaman-halaman sebelumnya yang under-rewarded.
Dikarenakan dengan adanya update algoritma yang dilakukan oleh Google tersebut, diharapkan Anda bisa fokus untuk membuat ataupun meningkatkan konten yang ada di website milik Anda secara relevan dan berkualitas sehingga sesuai dengan apa yang dicari oleh para pengguna Google.