Diseluruh dunia, ada lebih dari 500 juta Instagrammers – lebih dari 300 juta orang yang menggunakan setiap harinya, membagikan rata-rata 95 juta foto dan video per harinya.
Itu adalah jumlah yang besar dan siapapun audience nya – umur, jenis kelamin, pekerjaan, apapun itu – anda bisa mendapatkannya melalui Instagram. Jadi, pertanyaannya adalah…
Dimana anda dapat memulainya dengan Instagram?
Bagaimana anda bisa mempertahankanya diantara 95 juta photo yang di posting tiap harinya? Bagaimana bisa seseorang yang bukan desainer dan termasuk amatir fotografer membuat content yang cantik di Instagram?
Pertanyaan ini semua dapat dengan senang hati kami akan jawab melalui petunjuk ini.
Berikut Tips Dan Strategi Instagram Untuk Bisnis Marketing :
Hal yang paling pertama: Mengapa menggunakan Instagram untuk bisnis?
Meninggi lebih dari 300 juta pengguna aktif, Instagram memiliki potensial besar untuk orang yang memasarkan. Tapi hal potensial di Instagram terletak lebih ke sikap pengguna dibanding angka.
Pemakai Instagram lebih senang berkaitan dengan merek
Manfaat yang berbeda dan keuntungan di jaringan:
Instagram, merek biasanya lebih enjoy dengan keterlibatan dengan 4 persen dari total semua followers. Di jaringan seperti Facebook dan Twitter, keteribatan itu kurang dari 0.1 persen. (source: forrester)
70% dari pengguna Instagram melaporkan telah melihat merek di (source: Iconosquare)
62% dari pengguna mengikuti suatu brand/merek di Instagram (source: Iconsquare)
Hanya 36 persen marketers menggunakan Instagram, dibandingkan dengan 93% pemasar/marketers menggunakan Instagram. (source: Selfstarter)
Social media telah membuktikan dalam mempengaruhi keputusan pembelian. Dan apabila anda dapat menemukan cara pencampuran dengan benar dari konten, audience akan meresapinya – dan bahkan membelinya dari anda – tanpa butuh untuk menekan atau puncak penjualan. Ini adalah mimpi Marketers.
Masih membutuhkan bukti? Mari lihat apa yang dikatakan marketers mengenai platform. 
Apa kata marketers tentang Instagram
Angka dan penelitian diatas terlihat bagus sekali, tapi apa kata marketers – orang yang menggunakan Instagram untuk menggerakkan hasil bisnis mereka – sebenernya ini berbicara mengenai platform, kan?
Inilah kata marketers dari merek seperti Birchbox, dan Ben & Jerry's tentang platform:
Mike Hayes, Digital Marketing Manager dari ben & Jerry's: "Sejak itu (Instagram) diluncurkan, Instagram telah menyediakan kita dengan platform yang dapat menjadi jalur komunikasi dengan para fans kita dan bisa menceritakan gambarannya secara visual."
Jessica lauria, Director of Brand of Communications Chobani: "Instagram adalah platform terbaik untuk Chobani, memperbolehkan untuk memperlihatkan bagaimana orang-orang sebenarnya menggunakan product kita dan menginspirasi jalan terbaru untuk menikmatinya."
Rachel Jo Silver, director, Social Marketing & Content Strategy, Birchbox: "Instagram telah memberikan keterlibatan yang efektif di antara kostumer kami ."
Formula yang di bentuk oleh kesuksesan Instagram untuk perbisnisan di Instagram bergantung lebih dari hanya sekedar mencetak gambar dengan sedikit tampilan yang bagus, kamu juga harus memiliki beberapa elemen seperti dibawah ini:
Visi dan strategi yang jelas
Selalu konsisten
Familiar dengan audiens
Dan, dengan visual style yang jelas juga.
Apabila kamu mengkombinasikan semua dengan bahan-bahan tersebut, Instagram dapat memberikan hasil besar untuk bisnis kamu.
Ambil madewell, sebagai contoh. Merek Fashion telah mengumpulkan audiens yang sangat banyak di Instagram (lebih dari 700,000 ribu pengikut dan 7,000 hingga 10,000 ribu likes per post). Platform ini telah menjadi kunci penghubung marketing untuk mereka, dengan memungkinkan mereka untuk menghubungkan dengan ribuan customer yang potensial di setiap harinya.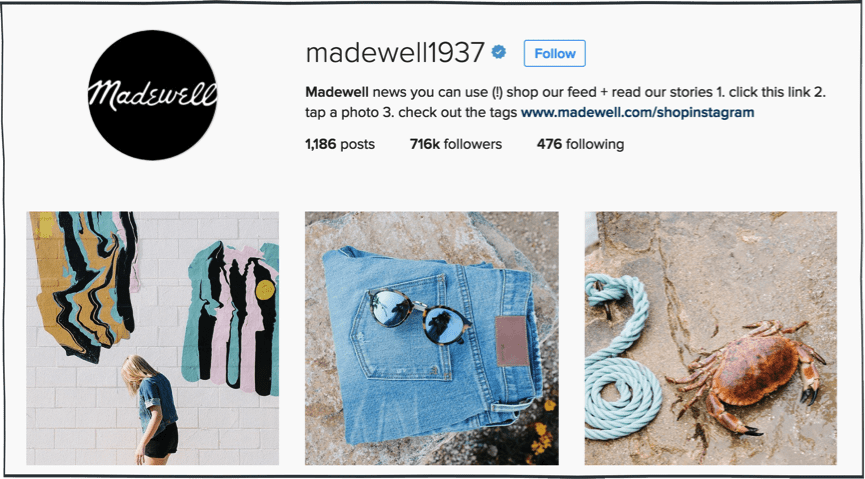 Jadi, bagaimana Madewell dan merek yg berhasil lainnya bisa bertahan di Instagram? Kita kumpulkan pentunjuk ini untuk membantumu menata strategi marketing Instagram yang berdasar dengan visi yang jelas dan hasil yang dapat di ukur.
Sebelum, membuat instagram perlu kita harus ketahui beberapa hal ini:
Kenapa kamu ada di Instagram? Pilihlah 1 hingga 2 pencapaian utama mu.
 Antara kamu benar-benar baru di Instagram dan baru bersiap-siap untuk membagikan posting pertamamu atau kamu sudah menyusun dan mencari cara untuk meningkatkan keberadaan postingan mu di suatu platform, Hal ini penting untuk memulainya dengan pencapaian yang jelas di fikiranmu.
Mengatur pencapaian akan membantumu untuk menetapkan strategimu di Instagram dan membuat konten yang akan membantumu untuk mencapai target.
Ini beberapa merek, tim dan perorangan biasanya memilih:
Pamerkan produk dan pelayanan mu
Bangun komunitas
Tingkatkan kesadaran/awareness dari produk yang kamu miliki
Pamerkan nilai dan kultur perusahaanmu
Iklankan ke pelanggan potensial
Tambahkan loyalitas produk dan,
Bagikan berita dan updates perusahaanmu
Ini adalah pilihan terbaik dari 1 atau 2 goals untuk profil Instagram, silahkan kamu ikuti langkah diatas atau kamu memilih kriteria sendiri dalam pencapaiannya.
Anggota audiens seperti apa yang ada di Instagram mu? Carilah faktor demografis nya.
"Marketing adalah tentang bagaiman men-deliver sebuah pesan yang tepat, ke orang-orang yang tepat dan di waktu yang tepat."
 Mengenal demografis yang ada di platform mu adalah hal yang penting untuk memastikan kamu sudah menembak apada sasaran audiens yang tepat.
Pew Research mengeluarkan, sebuah uraian dari demografis Instagram dan dia senang sekali untuk membagikan kunci temuannya bersamamu disini. To be continued..